Weiter im Kampf gegen die Todesstrafe in den USA und überall – aktualisiert: Frank Atwood soll heute aus dem Rollstuhl in die Hinrichtungskammer gehoben werden. Menschenrechte made in USA
Wir werden auch weiterhin uns als Menschenrechtsgruppe gegen die Todesstrafe global positionieren. Unser sonstiges Engagement in den USA verpflichtet uns dabei, einen Hauptaugenmerk auf jenes Land zu richten, das gerne sich als Hüter von Menschenrechten, Freiheit, Frieden und Demokratie präsentiert.
In Arizona droht weiterhin die Wiedereinführung der Todesstrafe durch die Gaskammer. Und weiterhin betroffen ist hiervon Frank Atwood (wir berichteten). Der Hinrichtungsaufschub kann jederzeit aufgehoben werden, bitte nutzt alle Möglichkeiten, gegen die Hinrichtung zu protestieren. Anbei ein Schreiben des Actionnetworks aus den USA. Nutzt die Telefonnummer, unterschreibt die Petition, verbreitet des Protest. Danke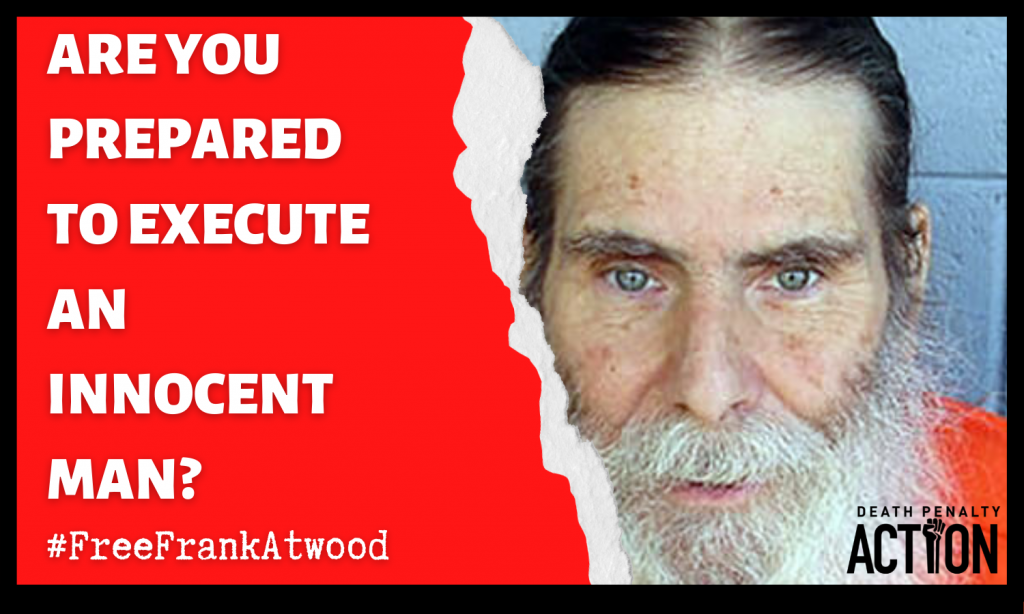 ---
AKTUALISIERT – AKTUALISIERT-AKTUALISIERT
#FrankAtwood is scheduled to be lifted from his wheelchair and executed on June 8, 2022, despite compelling evidence of his #innocence. Sign & share the petition: http://bit.ly/FrankAtwood #DeathPenalty #WheelchairExecutions #StopExecutions

CASE STATUS
Frank Atwood maintains his innocence, but the 9th Circuit Court of Appeals denied his request to bring evidence that no court has considered.
The 9th Circuit Court of Appeals will hear oral arguments in the preliminary injunction appeal in Atwood today (Monday) at 1:30p PDT/4:30pm EDT. Issues include disability accommodations for lethal injection; beyond-use-date for compounded pentobarbital, and standing to challenge cyanide gas. It isn't posted there yet, but at the time of the argument there should be a link to watch live online video here. Full-text briefs and other case documents are available here.
Death Penalty Action continues consult with Frank, his legal team and our allies in Arizona. We've been asked to help generate protest vigils in Arizona. If nothing else, this will support Frank's bigger concern, which is to shine a light on the evils of the death penalty. How ridiculous is it that the argument is how to kill a man when he has been denied the ability to present all available evidence as he attempts to prove his innocence.
Please keep Frank, his family and legal team, as well as the family of the victim in this case, Vicki Lynne Hoskinson, in your thoughts and prayers, that they be comforted and energized for the next steps in this effort.
Yours in the struggle,
–Abe
Abe Bonowitz, Director of Death Penalty Action
PS: Click here to support Death Penalty Action's work to shine a spotlight on every execution. Checks may be sent to PO Box 89, Ghent, NY 12075
Michael,
Thanks for signing the petition for Frank Atwood in Arizona. Now, can you help us with a few more things?:

1) Contact Gov Ducey at 602-542-4331. As him to rescind the execution date and find a path toward clemency or exoneration in this case.
2) Spread the word to keep up our momentum!

• Share this petition on Facebook.
• Share this petition on Twitter.
• Share on Instagram.
• Or you can send your friends this link: https://actionnetwork.org/petitions/stop-the-execution-of-frank-atwood-in-arizona?source=direct_link& or simply copy and paste the email below

2) Please donate now to help us do this work:

3) Take more actions! We have other execution petitions here, and opportunities to help stop federal executions here.

Thank you for all that you do.

Rev. Brandi Slaughter, Deputy Director
Death Penalty Action


---
Copy and paste this email to friends to spread the word:
Subject: Sign the petition! Arizona Governor Doug Ducey: Stop the Execution of Frank Atwood in Arizona
Body:
Friend,
I signed a petition on Action Network telling Arizona Governor Doug Ducey to Stop the Execution of Frank Atwood in Arizona, who is scheduled to be killed on June 8, 2022 for the alleged 1984 murder of Vicky Hoskinson.
The State is attempting to kill Mr. Atwood despite open legal issues—including whether he is innocent—that need resolution to ensure any measure of reliability in this conviction and death sentence. Eyewitnesses reported seeing the child alive hours after the only time Mr. Atwood could have crossed paths with her. Yet the authorities zeroed in on Mr. Atwood, carrying out an investigation riddled with flaws and lacking in concrete evidence connecting him to the victim's disappearance, let alone her death.
Can you join me and take action? Click here: https://actionnetwork.org/petitions/stop-the-execution-of-frank-atwood-in-arizona?source=email&
Thanks!