Rosalyn Jumping Bull verstorben.
(Rosalyn beim Commemoration Day 2014 mit Leonard Peltier telefonierend)
Seit einiger Zeit waren wir alle über Rosalyns Gesundheitszustand sehr beunruhigt und auf ihren Tod daher gefasst. Am Freitag, den 15. Mai 2015 verstarb Rosalyn Jumping Bull. Bis zum letzten Jahr war die 83jährige bei den Vortreffen und dem jährlichen Commemoration Day am 26.Juni dabei. Hier, auf dem traditionellen Familiengrundstück der Jumping Bull Family saß Rosalyn, Urgroßenklin von Sitting Bull,  mit ihren Verwandten im Schatten der Bäume, hörte den Beiträgen zu, sprach mit Bekannten und Gästen oder telefonierte auch mit Leonard Peltier. Peltier ließ es sich in den letzten Jahren nicht nehmen telefonisch eine Grußbotschaft an seine Unterstützer zu übermitteln, die sich nach einstündigem Marsch durch die mittägliche Hitze eben auf jenem Gelände einfanden, dass als Ort des FBI – Überfalls und dessen fatale Folgen in die US – Geschichte einging.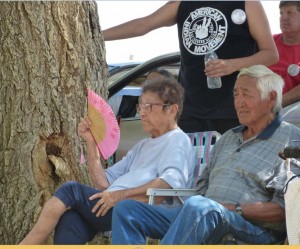 (Rosalyn beim Commemoration Day 2013)
Was folgte ist bekannt: 2 tote FBI – Agenten, 1 toter AIM – Aktivist, die größte Menschenjagd der US- Fahndungsgeschichte, die Kriminalisierung des indigenen Widerstands und die nun fast 40jährige Inhaftierung Leonard Peltiers.
Wir alle, die wir Rosalyn kannten, werden diese vermissen. Have a save journey to the spirit world. … unser Kampf geht weiter.
Nachfolgend ein Statement von Leonard Peltier:
May 17, 2015
Greetings my People, friends and supporters.
It is always hard to accept the passing of our elders, especially when it is one who has spent so many years of their life fighting for their People's survival.
For me, Roselyn's passing is very difficult because i knew her personally. She was a great friend, a loyal fighter, and a tireless supporter of my freedom. I loved her and I certainly will miss her very much.
Roselyn fought hard in dangerous times. America was at the point of exterminating Native People, The Termination Act was full speed forward in 1958 and she was in the thick of it. It could have been the end for our Peoples. THERE WOULD NOT HAVE BEEN ANY MORE RESERVATIONS, NO more Native Lands, NO more native Nations and, in time, no more native Peoples. All there would have been is just very short mention of Native Peoples disappearing. In the 50's, they began to call US THE VANISHING AMERICANS. Their plan was simple termination. This is an old idea that started way back in the 1700's, a long time plan started by the British, and the end result would have been we would be gone. The Nations would have been gone and the People relocated where they would intermarry with the outsiders. Over time, our blood line would have been gone. This is what assimilation is all about and Roselyn fought to protect us from it.
And, so we fought and in many ways we won. Our Nations are still here. Our Peoples still breathe the air of life. Roselyn played her part in it and it was a huge.
I know the Oglalas are very proud of Roselyn as I am, and I join you in praying for a safe journey for her, and that she'll find her family and friends and be happy. I know that she will.
In the Spirit of Crazy Horse,
Leonard Peltier