Zum Tod von Nelson Mandela: Stellungnahme, Zitate, Statement Leonard Peltiers
Als Menschenrechtler verneigen wir uns in aller Bescheidenheit vor Nelson Mandela und seinem Leben(swerk). Er war und wird auch immer sein für uns ein Vorbild und Motor im Kampf für Freiheit, Menschenrechte und Menschenwürde, im Kampf gegen Rassismus und Ausbeutung. Nelson Mandela wird immer auch ein Teil unserer politischen Geschichte und Sozialisation sein, denn viele von uns waren in den 70er und 80er Jahren des 20. Jahrhunderts im Kampf gegen Arpatheid und für Mandelas Freiheit engagiert.
always in respect
TOKATA – LPSG RheinMain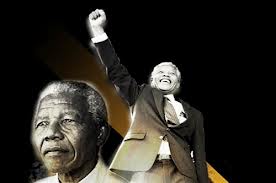 ★"Wir werden eine Gesellschaft errichten, in der alle Südafrikaner, Schwarze und Weiße, aufrecht gehen können, ohne Angst in ihren Herzen, in der Gewissheit ihres unveräußerlichen Rechtes der Menschenwürde – eine Regenbogennation im Frieden mit sich selbst und mit der ganzen Welt." (Mandela in seiner Antrittsrede als Präsident im Mai 1994)
★"Ich wusste ganz klar, dass der Unterdrücker ebenso frei sein muss wie der Unterdrückte. Ein Mensch, der einen anderen Menschen seiner Freiheit beraubt ist Gefangener seines Hasses, er ist eingesperrt hinter den Gittern seiner Vorurteile und seiner Engstirnigkeit. (… ) Als ich die Türen des Gefängnisses durchschritt, war dies meine Mission: Zugleich den Unterdrückten und den Unterdrücker befreien." (Mandela in seiner Autobiographie)
Statement von Leonard Peltier:
Greeting my relatives, friends, and supporters:
It saddens me to hear that a great man like Nelson Mandela
has departed from this lifetime.  He was a man who was truly
inspirational and showed us the possibilities of how a continued
struggle by indigenous people could manifest itself in levels of
freedom that have been marred by centuries of oppression.
Our Native people suffered the same types of oppression many times.
It is not as overt and as easily distinguished as in some places;
however, if you are dead because a policeman shot you, or dead
because you could not stand the racial and cultural genocide, so you
committed suicide– you are just as dead either away.  Nelson Mandela
is known for leading the struggle against apartheid in South Africa.
America talked about ending apartheid and put sanctions on South
Africa.  Not being all that adept at the English language, it is
my understanding that (apartheid) means to keep someone apart
from something; my people have been kept apart purposely from
the sacred Black Hills of South Dakota. There was, and still are,
measures that keep us apart from our true history, perpetrated by
an education system that limits the truth of our being.  Right now,
here in America, right now in Canada, right now in South America,
there is apartheid that seeks to separate us from our sacred places,
our lands, and our resources.  Right now in Canada Native people
are struggling to protect their aboriginal lands from fracking
which destroys the water tables and disturbs the natural balance
of the Earth.  Right now with an apartheid mentality, they seek
to build pipelines across Native lands that have the potential of
great ecological destruction.  Right now there is an apartheid that
seeks to separate us from the protection of the constitution of
the United States which says treaty law is the supreme law of the
land; which also says you have a right to an unbiased fair trial;
which also says you have a right to a jury of your peers. Right
now our young Native people are tried as adults THREE times more
than other groups and kept apartheid from their families and kept
apartheid from competent legal representation.
I could go on and on, but you can see where I am heading with
this. The struggle from apartheid, I am sure, is not over in South
Africa, nor is the struggle against apartheid and slavery over in
America. We must all consider Nelson Mandela an inspiration, but I
am also inspired by the least of our people who stand up for what
is right, like the young man or young woman who peacefully mans a
roadblock against developers or fracking companies or some factory
that hurts our air.  While I am at it, in all this chaos, I also
want to remember a brother by the name of Wanbli Tate who tirelessly
championed the rights of indigenous people through radio programs,
writings, and the internet, to bring attention to the wrongdoers
represented in government and corporations.
We have lost a lot of our people in their last years, and again
I remember my brother Russell Means who was also tireless in his
efforts in trying to bring about an end to this American version
of apartheid that faces Native people.
In the spirit of all those who have gone before us in this struggle,
I would like to say stay strong and NEVER, NEVER give up.
Your friend always,
In the spirit of Crazy Horse,
Leonard Peltier
Mitakuye Oyasin